My roommate Kyle's parents have a litter of kittens at their house. Every time I go up there there's this one I see that I've really started to fall in love with. I've been indecisive about getting a kitten or not though.
They call her Gizmo because she has a lot of the same markings as Gizmo from 'Grimlins'. If I do get her she'll have an actual female name. lol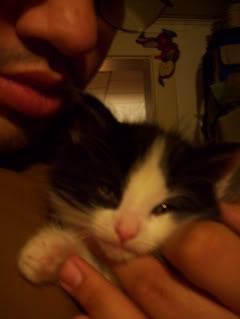 This is the second one we may get so the other isn't lonely when we're gone to work and stuff. Hector Vasquez. This will be Kyle's. It may be a girl so the name may have to change. I call it Bootsie as a nick name. All four paws are white.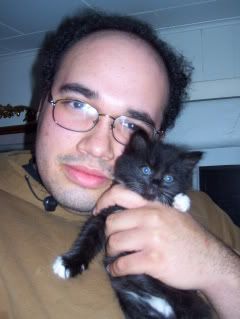 This is an on going thing with Kyle. He names his cats mexican names. Thier mother's name is Rosa Diega Vasquez. Here she is.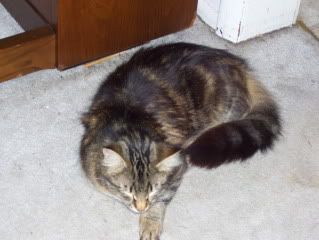 The very first one he ever gave a mexican name was Jose Vasquez (RIP). No relation to the other cats. I really liked this cat. He was really beautiful and had really green eye. Jose lived with Kyle's grandparents and his grandma called him Frank. lol
This one below is another kitten who has all the same markings of a Boston Terrier, guess the name. Answer, Boston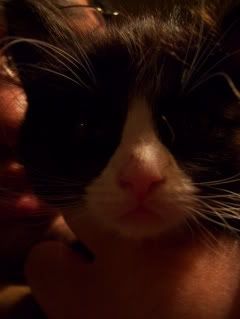 This is the whole litter of kittens going to sleep after running around the house and wrestling with each other.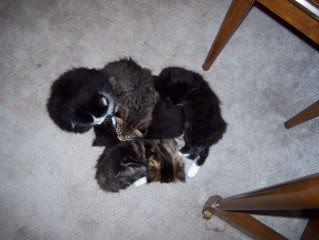 Here are some extra pictures of my possible cat.
Her and Hector wrestling.. She is a fiesty lil thing!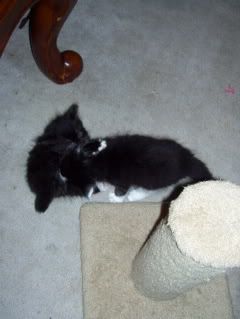 Here she is cleaning herself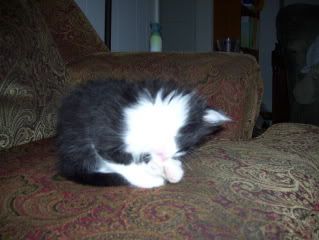 Here's a few pics from last year of Rosa and this litter's uncle Horashio (I nick-named him Mulatto) when THEY where kittens. They grow so fast.. *sniffs* :)